Hello, welcome to the official SCP - Containment Breach Wiki! This site is your #1 source for finding information about the popular indie survival horror game SCP - Containment Breach. We strive here to provide accurate and up-to-date information about the game.
History
The first wiki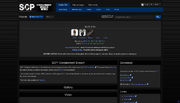 The original SCP - Containment Breach Wiki (commonly referred to as the Old Old Wiki) was founded on April 29th, 2012 by Geogzm. He had created the wiki with the intent of it being run by the community as a means for newcomers to learn about the game back when it was first released. Other admins on that wiki included Zabidenu/Zabinyan, TheIncredibleHibby, CommunistPancake, Big LargeMcHuge, and AR7. The wiki was known among many as having "too many pages and too little content". Poor moderation of information and community involvement generated many complaints about the wiki.
Later, QuaternionMark approached Regalis stating that him and several other people (specifically ScavengerOfHumanSorrow and MrPeanut) had gotten fed up with the current wiki and wanted to re-create it from scratch with the intent of making a clear and up to date place for people to learn about the game. Regalis had given them the green light and the new wiki began production on June 7th, 2013.
The creation of the official wiki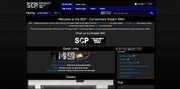 The new SCP - Containment Breach Wiki (now referred to as the Old Wiki) was publicly announced on June 15th, 2013 via Regalis on the game's official forums.[1] ScavengerOfHumanSorrow, MrPeanut, and QuaternionMark were the founding admins of the new wiki, and since kept the flow of content in check.
Users from the older wiki migrated to the new one after it was announced on the official forums. Notable improvements to the new wiki included replacement of comments sections with talk pages, stricter ban system, and no more pages for third-party game modifications (which was then demoted to a collective blog listing download links for proper community mods, this blog however was dropped when the wiki moved to the Gamepedia network).
Migration to Gamepedia
A few months after the creation of the new official wiki, several of the admins decided to start looking for an alternative wiki hosting site instead of Wikia to host the content on. This eventually lead to discovering the Gamepedia platform. Some changes that were noted instantly were its improved skin (dubbed the Hydra skin), better staff and regulations and extended customization abilities.
The new wiki was created on October 10th, 2013 and was officially announced October 31st. It is the current SCP - Containment Breach Wiki and has remained so ever since. The old wiki still exists today, though it is unsupported and considered outdated at this point.
See also
References